2015 is going to be the year of remodeling, according to the November 2014 Residential Remodeling Index. With nationwide activity growing by 3.3% during the third quarter of 2014, analysts expect a full recovery during the next 12 months. So-­called "big-­ticket" remodels are particularly popular among homebuilding trends at present, however, for a number of reasons:Improved Housing Market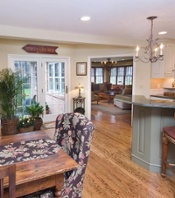 With the housing marketing and the economy in general becoming more stable, it's no longer as risky a maneuver to invest money in your home. Jobs are more stable, particularly in regions like the northeastern U.S., and in areas like Cherry Hill remodeling presents a good opportunity to call in a renovation contractor to customize your living space for long-­term residence.
Availability of Foreclosed Properties
There are still lots of "shadow inventory" homes available for purchase, with statistics showing 9% of November real estate sales were distressed sales. While this compares well with the 14% statistic from 2013, it shows there are still bargains to be had. Few of those bargains come with all the features you want or need in a home, however, but the lower selling price means it's possible—and worthwhile—to invest more in homebuilding trends like renovations.
Aging Population
With more and more baby boomers reaching the age of 65 years every day, the huge population group is exerting increased influence on the economy. Largely affluent and secure, healthy baby boomers are choosing aging in place over moving to retirement communities, but this often comes at the price of needing extensive big-­ticket renovations to their homes. In many cases, the homes have been mortgage-­free for years, so any expenditure that improves the property is an investment in the resale value.
These types of renovations include complete bathroom modifications, additions to accommodate main-­floor level bedrooms, and the installation of chair lifts and in some cases, elevators.
Rising Energy Costs
The continually rising cost of energy is driving a trend to improve insulation, replace windows and ensure better use of natural light and air to achieve greater energy efficiency. In many cases, what begins as a small Cherry Hill remodeling project becomes a big-­ticket renovation when you realize the opportunities it offers. After all, why not remodel your bathroom in its entirety if you're installing a walk-­in bathtub? You'll not only make it perfect for your current and future needs, but you'll boost the resale value tremendously.
With homebuilding trends in an active growth phase, it's a great time to take advantage of the market's confidence and improve the value of your home, too.
Topics:  Cherry  Hill  remodeling,  homebuilding  trends,  renovation  contractor