The Benefits of our Lead Carpenter Approach
R. Craig Lord Construction Company is a design-build firm that continues to innovate to improve quality and customer satisfaction. That is why we use the lead carpenter system on our remodeling projects
The lead carpenter system was introduced to the remodeling industry over 25 years ago. Companies that are committed to providing a quality job and a positive client experience have found great success using it. This system is built on the premise that the best person to manage carpentry-centric renovations are seasoned carpenters who do the daily, hands-on work.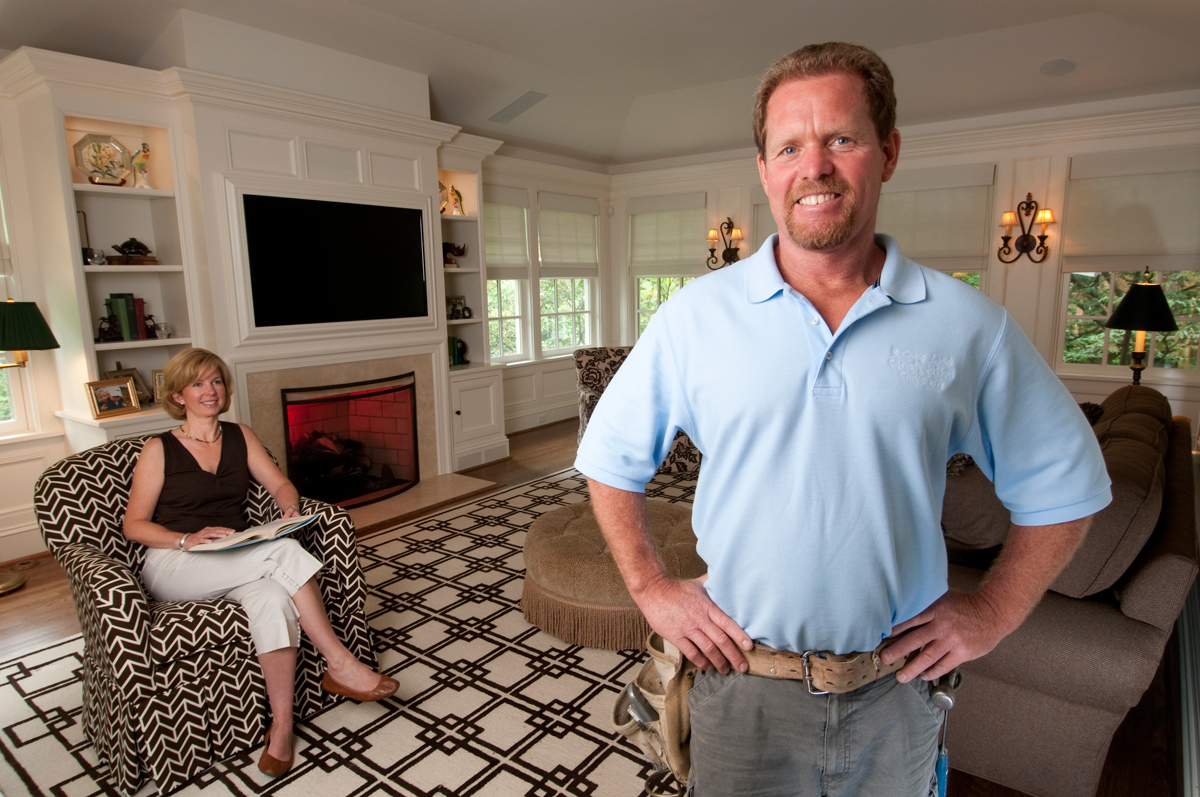 "Mike, our lead carpenter, had to juggle having four kids and two dogs in the house along with our busy schedule. We truly felt that Mike had a personal commitment to our project."
— Nancy L., Moorestown, NJ
Once your project designs and blueprints have been completed by our Design Team, one of our award winning Lead Carpenters will manage all aspects of your home renovation project, be your on-site point of contact, oversee subcontractors, and perform carpentry tasks.
Benefits of Our Lead Carpenter System
Experience At R. Craig Lord Construction Company, all of our lead carpenters are full-time employees with years of proven work experience and have demonstrated quality craftsmanship and supervisory skills throughout their careers.
Quality The motto our lead carpenters live by is "Perfection is in the details." As a result, our projects have won awards and our client reviews speak to their attention to detail, quality workmanship, and excellent project management.
Supervision Our level of attention to supervision and detail exceeds the industry standard and has a direct positive result on your project. Often, other companies may not supervise subcontractors on-site which may lead to subpar quality and put the responsibility of supervision on the homeowner. Since our lead carpenter works on site for the duration of the project, you can have peace of mind that your project is supervised at all times and that your home is kept secure while work is being done there. This level of supervision ensures the quality and accountability of every aspect of your remodel with R. Craig Lord Construction Company.
Single Point of Contact The lead carpenter method provides you with a single, on-site point of contact for any questions, eliminating the need to hunt down the project manager at his or her office or send emails or leave voicemails for them. When you have a lead carpenter, that person is right there, performing work on your home until your project is finished.
What Our Clients Say about Our Lead Carpenters
Michael Payne
"Mike Payne is phenomenal! He is friendly, reliable, and has amazing craft and attention to detail. I would not want to work on another project without him as the lead carpenter."

– Mark B. – Moorestown, NJ
"Mike Payne was great to work with; always pleasant and easy to talk with and discuss issues with. He worked hard to keep us up to date on things."

– Debbie and David R. – Moorestown, NJ
"Mike Payne did a great job managing the project and overseeing subcontractors. He also works with a careful attention to detail and effort to make the final product the best it can be."

– Barbara and Larry F. – Moorestown, NJ
Carl Tomforde
"Carl is absolutely amazing and is a true perfectionist."

– Patrick and Angela C. – Moorestown, NJ
"Carl, the job lead carpenter was exemplary in his attitude, work ethic, leadership ability and technical skills…the best I have worked with."

– Bernadette and Paul C. – Moorestown, NJ
"The lead carpenter, Carl, was exceptional – highly professional and skilled, and overall a really good person who genuinely cared about us and our project/home."

– Brian & Melissa L. – Moorestown, NJ

James Moffei
"Jim was exceptional and comes highly recommended. He's very easy to get along with and willing to go the extra mile. "

– Joan C. & Tom -Moorestown, NJ
"The entire team was outstanding, but our lead carpenter, Jim, was particularly exceptional. We had full confidence knowing that he would be on site all day, every day."

– Christine and Michael M. – Cherry Hill, NJ

Gary Wuchter
"Gary was an asset to our project, both times. He was always on time, helpful and pleasant."

– Karin and Jonathon L. – Moorestown, NJ
"Gary, the lead carpenter, worked through many detail issues achieving excellent results."

– Barbara and Dan M. – Moorestown, NJ
"Everyone at Craig Lord is a consummate professional but I have to give special recognition to Gary, our lead carpenter who is one of the most capable people I've ever worked with. He goes above and beyond to keep the project moving along and his talent, knowledge and experience have resulted in a beautiful and practical renovation. He never forgets a single detail, his follow up is flawless and his suggestions are well thought out and are always spot on. Not many people can say a home renovation project was fun but he made it so! I look forward to working with him on our next project."

– Donna and Matt B. – Moorestown, NJ
"All of the lead carpenters on our projects have gone above and beyond to provide us with the best remodeling experiences, as has everyone in the office."

Kathy and Phil C. – Moorestown, NJ