Kitchens and bathrooms. Bathrooms and kitchens. However you choose to say it, you're going to be hearing those words for a long time to come. The next 12 months, to be exact. Home remodeling trends are zeroing in on kitchens and bathrooms for 2015.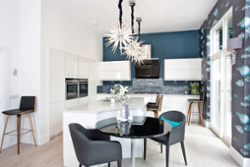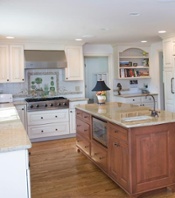 What's new, you ask? A lot, actually. Here are the top kitchen and bathroom remodelingtrends you can expect to see among Mt. Laurel renovations in the coming year.
Kitchen Remodeling Trends
Freestyle furniture: Gone are the days of wall-­to-­wall kitchen cabinets and countertops. In 2015, the trend is shifting towards freestanding items such as old-­fashioned dressers, movable kitchen islands and open shelving. Of course, if your existing kitchen is an ode to the walnut wall-­unit, then it's time to rip it all out and go down to bare bones, so to speak. Wild wallpaper: Forget the idea that wallpaper has been Out for the past thirty years. It's back in, and in a big way. Particularly in rooms like the kitchen, where a feature wall such as this undersea imagery makes a strong focal point. Charming ceilings: Kitchen ceilings that draw the eye and make you look up are coming into play. Whether you use lighting, ornamental bulkheads, skylights or other classic features, you can add options that increase the functionality as well. An example is a row of clerestory windows to create an illusion of a floating ceiling, which also lets lots of natural light into your Mt. Laurel kitchen.

Bathroom Trends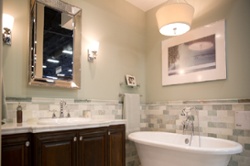 Bathroom remodeling trends are just as exciting:
Massive bathtubs: Apart from the points we mentioned previously about the new leaning towards freestanding, oversized soaking bathtubs, bathrooms are getting a new lease on life with clean, contemporary decor. Grey is the new white: Walls are getting a sensuous makeover in 50 shades of grey, currently the fastest-­growing shade for bathrooms according to the National Kitchen and Bath Association. Quartz countertops: Granite is giving ground rapidly to the new style of quartz countertops, which looks and feels like stone but is more durable and requires no sealing or maintenance.
Staggered tiling: The new 12-­inch by 24-­inch tile is making a splash for bathroom walls and floors, particularly when it's installed in a staggered pattern that creates a flowing look through the room. The mixed-­tile look is out, and uniform colors and free-­flowing patterns are in for 2015.
Think a kitchen remodel might be in your family's future? Consider downloading our free e-­book below!
Image sources:
http://www.houzz.com/photos/19950019/under-­sea-­kitchen-­contemporary-­kitchen-­scotland
http://www.angieslist.com/articles/top-­kitchen-­and-­bathroom-­remodeling-­trends-­2015.htm
Topics: bathroom remodeling, home remodeling trends, Mt. Laurel renovations