A remodeling project can be a huge undertaking for a homeowner. The desire for a new Kitchen or remodeled Bathroom is there, but most people don't know what to do first or where to start. Like anything else a good start is very important. So with that in mind I asked three nationally recognized remodelers what they thought the single most important thing a person starting a project can do,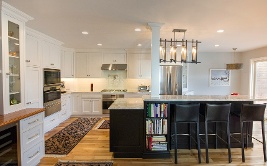 Here is what they said:
"The single most important thing a homeowner should do when planning a remodeling project is to interview prospective contractors, finding the company that best meets the goals for the experience of the project and then look for that contractor to plan and provide a cost summary for the project. Too many people put the cart before the horse, having multiple contractors bid a project without first finding the best contractor to provide the service and experience"
Chris Stebnitz Stebnitz Builders, Elkhorn WI
Stebnitz Builders
"The single most important thing is to first ask yourself what you want the experience to be like. For some clients working with a contractor who gets their vision of the outcome is primary, while for others it is most important that the house is kept clean and secure during the work. With this self-­knowledge in hand, interviewing contractors has a purpose: To find someone whose capabilities match your goals."
Patty McDaniel Boardwalk Builders, Rehobeth Del.
Boardwalk Builders
"When choosing a contractor it is important to do your homework. Meet with multiple companies;; get a sense of who they are. Go visit their work. Get references. Experience with similar projects is a must. Also understand going in what it will cost and not what you want it to cost;; and get it all in writing, demand regular meetings during the process to keep communication open as well as the rest of it on budget and schedule.
John Sylvestre Sylvestre Construction, Minneapolis MN
Sylvestre Construction
Good advice from some great people. If you follow what they are saying your project will not only have a successful start it will have a successful finish!
Topics: design/build checklist, design/build remodeling services, Design­build