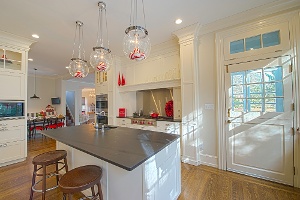 All successful projects from custom Kitchens to Bath remodels to Additions start with a good design. Good design insures that your project will address your families' needs, that it will blend in with your homes architecture and age, and the cost of the project will fit your budget.
How does this happen? It starts with the design professional asking a lot of questions. Take a Kitchen remodel for instance. Since everyone uses their Kitchen differently to get a truly custom design the designer has to learn how you will use the Kitchen. Will it be an eat-­in Kitchen? If so is there a need for a breakfast bar? How many cooks are in the family? If there is more than one cook, multiple prep areas might be desired. The size of the people using the Kitchen is important to consider in the design. Can someone reach those upper cabinets? Should the Kitchen be designed with some age in place elements as people stay in their houses longer. This process of questioning takes place before any lines are drawn on paper.
The next step is fun but can be confusing. Again guidance from a design professional is critical for a project to be successful. The vast array of materials, colors, shapes and sizes available for today's Kitchens is impressive. Each different material has its own benefits and characteristics. Some stone counter-­tops need to be sealed periodically and some don't. Some cabinet finishes are more durable than others. If there are young children in the house the finish might need to be considered. These are the type of decisions that a design professional can help you with.
At the end of the process the new Kitchen or expanded Bath will be exactly what you were looking for. The design will have been customized to suite your needs. The materials used will be perfect for your lifestyle. The design will have created value for you and your family and added value to house. Work with a professional and have a great experience.
R. Craig Lord Topics: kitchen design, Design-­build, bathroom remodeling, South Jersey Design Build