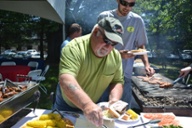 May 15th was the date of our somewhat annual Subcontractor and Supplier Appreciation Party. The event was held on our back lawn and featured and auto display courtsey of Gary Wutcher and Lou Brandolini. Craig displayed his collection of wrestling robes (1).
At the event we thank all of our family of subcontractors and suppliers. These people help us everday to bring the greatservice and products that our clients have come to enjoy. We recognize two companies, one from each category, as "Subcontractor of the Year" and "Supplier of the Year".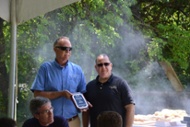 This year Moorestown Hardware won our coveted Supplier of the Year. With their convenient location, great inventory and helpful attitude, they are a big part of our success. Congratulations to Pete and Julie Bender. We really appreciate your help.
The Subcontractor of the Year went to RMN Electric, LLC. A multiple winner, this company is led by Bob Naylor and provides us with exceptional service and quality. Residential electric has become very complicated over the years with all the code requirements. Bob stays on top of the rules and keeps us out of trouble. Bob and I first met when we were 18 years old, forty-one years ago when we both worked at S.R. Maines Company. Congrats Bob and thanks for the good work.