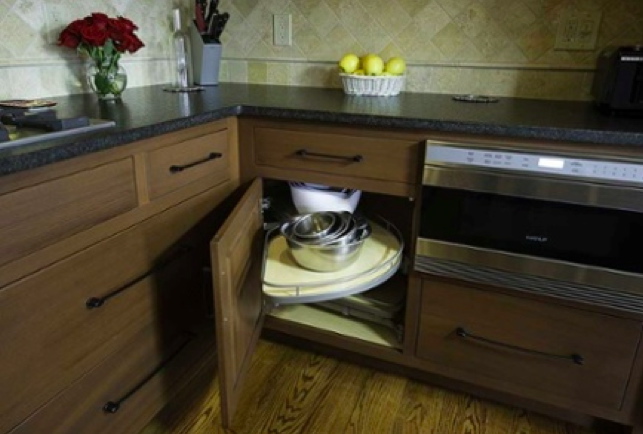 Remodeling a kitchen is no small undertaking. It involves considerable planning if it's to be efficient and inviting, and while it's easy to set that goal, executing it is complex. For many, kitchens are the hub of the home where family and friends gather, not just to cook and eat meals, but also to socialize. Identifying how you want it to look and how it should function are a large part of the planning process.
First Steps
Start the remodel process by listing everything you like and don't like about your current kitchen. Don't worry about finding solutions. That's the job for the experts who can help you solve storage problems and decide on countertop, cabinet and appliance placement.
Think about what you do in your kitchen and what you'd like to do there. Will you do your menu planning there? Will the family pets join you while you cook? (If so, you might want to create a special space for them where they won't be underfoot.) Is it a place for kids to play or do homework, or do you want to move those activities into a different part of the home? Do you plan to eat only quick and casual meals (like breakfasts) in the kitchen, or should it also accommodate sit-­down suppers with the whole family? How about entertaining guests: in the kitchen or not? And if in it, just how formal should it appear?
Working with all of these objectives, the designer will probably recommend that you place the sink, refrigerator, and stovetop and oven in a triangular arrangement. Installing these elements in this shape improves workflow and enhances convenience. In smaller kitchens, they will be within a few steps of each other, and in larger kitchens with more square footage, they shouldn't be further apart than nine feet. Ideally, the perimeter of this triangle won't exceed 26 feet.
Storage Considerations
In addition to how you'll use the kitchen, consider your storage needs. Finding ways to maximize storage, efficiency and organization is an important part of the design process.
Pull-­outs
Pantry cabinet pull-­outs create an incredible amount of storage in a narrow space, pulling out for easy access and tucking away easily. You can have a full-­height pull out pantry for more storage, or integrate one or more into your lower cabinets. Stylish as well as functional, these pull-­outs are seamlessly integrated with the kitchen cabinet design and finish.
Similarly, drawer-­style pull-­out shelves in lower cabinets provide organization and ease of access for foods, cookware, and other kitchen tools.
Lazy Susan
The lazy Susan continues to solve the problem of space in a corner cabinet that would otherwise be difficult to use. Newly designed lazy Susan cabinets offer a wide range of styles compared to the standard rotating shelf. Now designs include pull-­out shelves that maximize the usable depth of the corner storage as well as a multiple garbage basket option.
Walk-­in Pantry
Nothing helps organize kitchens better than a spacious pantry within the room or adjacent to it. Food, appliances, and cookware are so much easier to access from open pantry shelves. If you buy food in bulk or have tall appliances, having several tall shelves will permit easy storage and access.
An Appliance Garage
Some people like having the small appliances easy to reach and use, but out of sight. An appliance garage, often placed in a corner, keeps toasters, coffee makers, blenders and coffee grinders within reach and easy to put away.
Work With an Expert
Throughout Burlington County and Camden County, New Jersey, the experts at R. Craig Lord Construction Company can help you choose the best layout, cabinetry, appliances, and materials for your kitchen remodel. They bring extensive experience and knowledge about kitchen design, traffic flow, materials, and construction. Each of these elements is crucial to your satisfaction and enjoyment of this room that is the central hub of the home.
Topics: kitchen remodel