While only 65% of Americans currently own their homes (the lowest percentage in 20 years) buying of previously-owned houses has increased once again over the past year.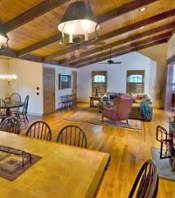 Keeping pace with the trend, remodeling has also hit a new one-year high, with some very specific remodeling trends for 2015taking pride of place.
What's Hot?
So what's currently hot in the Moorestown renovation sphere, and reasons why these projects are taking the top slots on the list:
Entryway renovations are currently hot, with entryway door replacements hitting the high note with the highest gains in the ratio of cost versus resale value. When you're replacing your door, it's highly likely that you'll need to do additional renovations to your entryway to match, either from either a size or an upgrade viewpoint. Because the entrance is important in terms of curb appeal, this suggests a focus on resale that will further drive the recovering of the housing market.
Deck additions in wood are big news, too, with a 13% gain in the cost to resale value ratio from 2013 to 2014. This supports the current trend in hardwood, which is coming into its own as a desirable material for the home. From interior floors through decking, wood is popular among remodeling trends for 2015—so much so that we won't be surprised to see a renewal of the serious lumber shortages that have affected the industry over the past few years.
Attic bedroom conversionsare #3 on the list, with a 15% gain in cost to resale value over the past two years. This speaks directly to the fact that homeowners are staying longer in their homes and renovating instead of buying, as well as the interest in expanding the living space and increasing resale value.
These are just the top three home remodeling trends for 2015we're seeing evidence of, but they are followed closely by garage door replacement, window replacement and back-up power generator installation. These are all evidence of long-term home occupancy and plans to renovate rather than buy or build.
What's Not?
The trends show a definite shift away from certain styles, such as:
Fitted kitchens – Homeowners are spending more time in the kitchens, especially open-plan venues where they can be part of the family while preparing delicious meals. This has caused a movement away from continuous counters towards a more free-style, organic look. So if you're wanting to do something different and up-to-date, get your home remodeling contractor rip out those cabinets and open up the walls, then search out unique pieces of furniture to complement the new, wide-open look.
Standard bathroom fixtures – One of the big remodeling trends for 2015 is the re-visioning of the bathtub, with huge, soaking tubs taking over from the shower sensations of the past few years. If you must have a shower, make it a feature of the master bathroom with multiple rainshower heads. Otherwise, focus your attention on putting in a sumptuous bathtub that you can spend all winter in.
Why You Should Plan that Remodeling Project Now
As the American economy continues to improve, we're predicting that a few factors will drive the home remodeling market in 2015:
More home ownership: The more homes that are owned, the more people will need remodeling.
Longer occupancy: Research by the NAHB shows that the average homeowner lives in one place for 13 years, so renovation during that time period is highly likely.
Energy tax credits: With several states offering tax credits for the installation of solar energy, homeowners may be motivated to undertake projects that encompass a number of alterations.
Aging stock: Available homes are older, and therefore need more work to make them livable and up-to-date for the new owners.
All this is going to make remodeling high on homeowners' To Do lists, and the demand could push up the price of home remodeling contractor services. So schedule your Moorestown renovation as early as possible in the new year, to make sure you get the best deal possible for your project.
Topics: remodeling trends for 2015, home remodeling contractor, Moorestown renovation