The interior floors are taking shape in this 1850's home in Moorestown, NJ being remodeled and restored by R. Craig Lord Construction Company for Bayada Home Health Care. The subfloors are being covered with beautiful new oak hardwood to match the original. The entrance hallway seen here showcases a new oak floor running the length of the hallway. Much care has also been taken to restore the staircase. Here, the original stairs are stripped and sanded. Next will be their final sanding and finishing. The staircase will then be ready for original and custom matched balusters to be reinstalled to support the railing. The original doors and trim in the hallway can also be seen in this photo and are awaiting final sanding.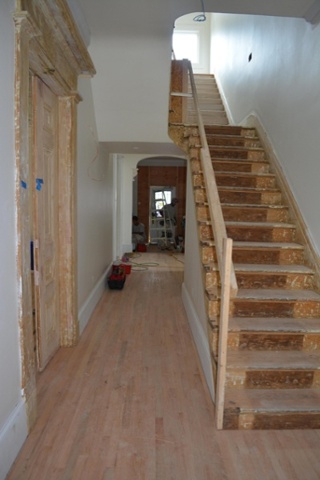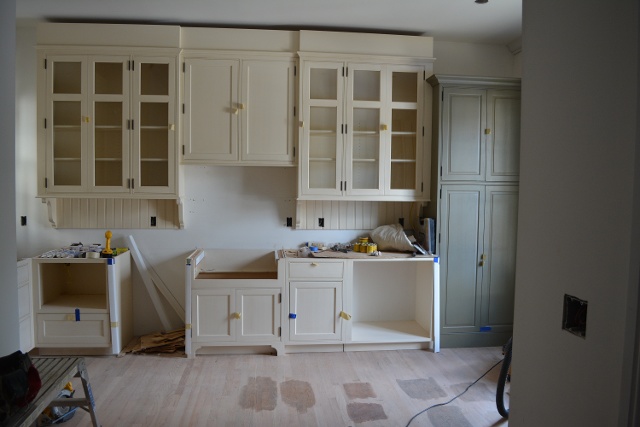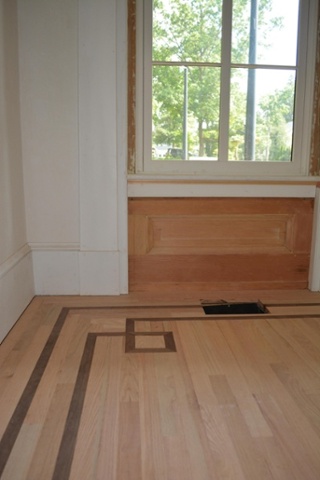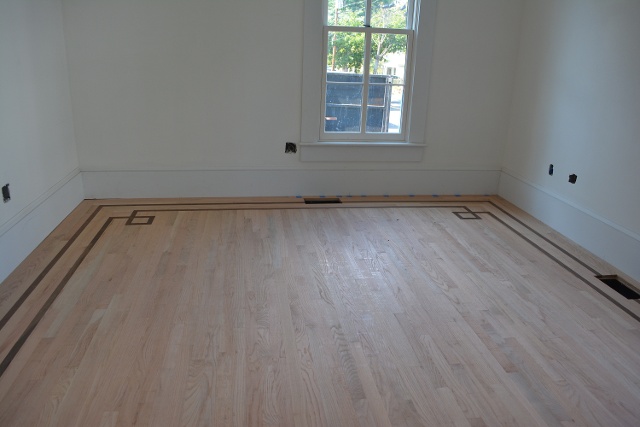 Hardwood floor installation is complete on the first floor. Notice the Peruvian Walnut accent border on first floor which is an original detail that is consistent with formal rooms of the era. Peruvian Walnut is a rich medium to dark brown wood and creates a stunning contrast to the oak.
This grand historic home remodel includes an equally grand Kitchen as can be seen in this construction photo that shows the Kitchen cabinetry being installed. Cabinetry details include extended upper cabinets finished with crown molding and period details. The Kitchen will serve many purposes including an employee break area and allow for food preparation during large meetings and fund raising events.
This home has come a long way and there is still more finishing details to come! Take a look back at the first Bayada Blog of the R. Craig Lord Construction Company remodel and renovation of this historic home. For a Moorestown remodel or one located in Burlington County or Camden County, contact us at (856) 235-­4237 to discuss your own older home remodel.
Topics: renovation, hardwood flooring, historic home remodel, moorestown remodel