R. Craig Lord Construction Company's remodel and restoration of this 1850's home on Main Street Moorestown, NJ for Bayada Home Health Care continues with the addition of period trim and plaster details. Installation of custom plaster medallions, rope, and appliques have been completed on the first floor and are ready to paint. As can be seen in this picture, they add architectural detail and elegance to the room as well as enhancing the light fixture which will hang below. In the past, the size and details of the medallion showed the importance of the room as well as the prominence of a household. The selection of ornate details in this rope border and the ornate medallion to match period details have restored this home to its glory.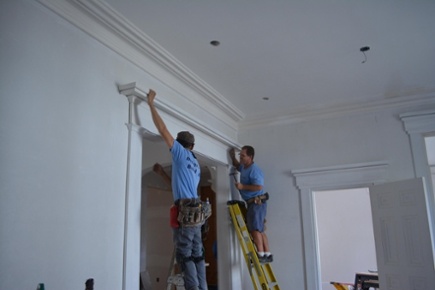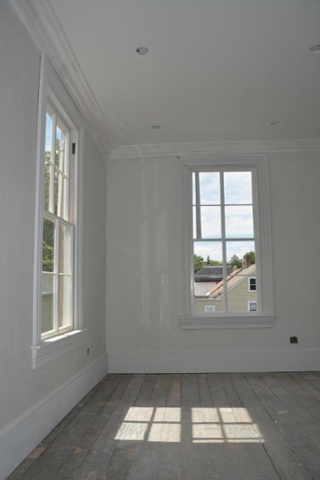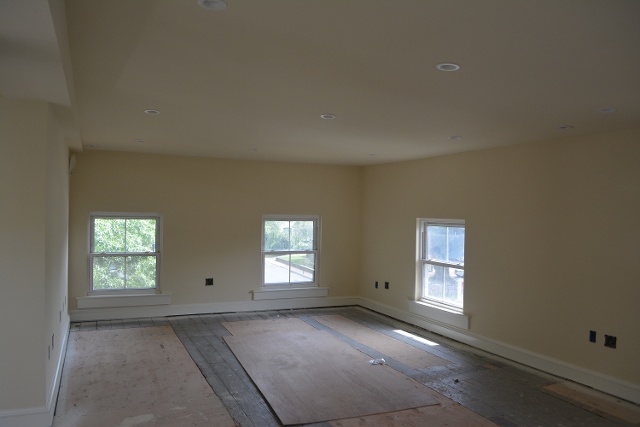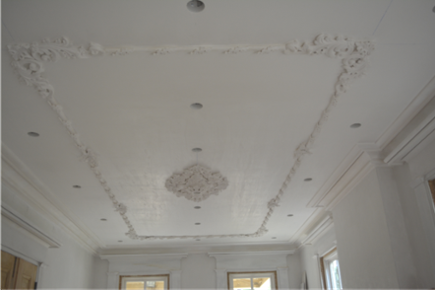 It takes a team! Our expert master carpenters at R. Craig Lord Construction Company have been on the job from tear down to framing to finishing historic details. In this picture, Mike and Sang are putting the finishing touches on the pediment head trim. Notice the different level of detail in this one picture alone -­ doorway trim, inset door details, and plaster cornice.
Period details can be found everywhere in this remodel and the window trim and baseboards are no exception. Thick beveled wood window casing frames the window and is now finished on all three floors. Large base trim to match the period details has been installed and now borders the rooms on the first and second floor. Up next will be painting and floor finishing.
The third floor is trimmed and painted. Period style birch hardwood floor wil be installed next.
Check back for more updates as R. Craig Lord Construction Company continues this historic home remodel.
For more information on our company, visit our www.rcraiglord.com.
Topics: historic home renovation, historic home, historic home remodel