R. Craig Lord Construction Company's renovation and remodel of this historic home for Bayada Home Health Care is entering the wallpaper installation stage and no detail has been left out of this restoration. Although wallpaper has faded in popularity in recent years, it was fashionable in the 1850's. With the integration of modern technology from England, by the 1850's America was making 95% of their own wallpaper. Combined with a sharp decrease in the postage rate in 1857, magazines showcasing wall paper patterns and advice were reaching more homeowners. And in turn, popularity rose. Here are some photos of the wallpaper in this historic remodel located on Main Street in Moorestown, NJ.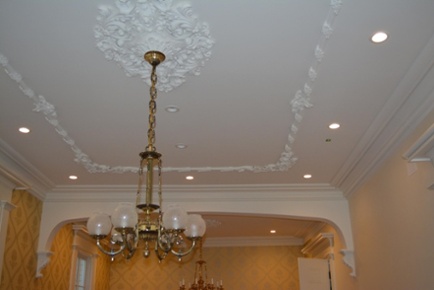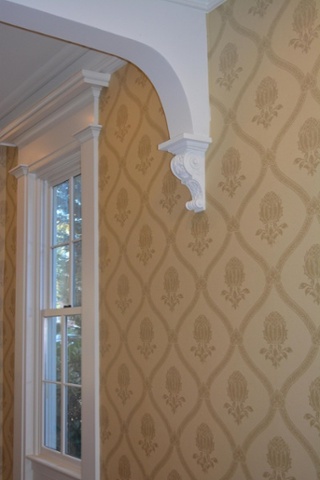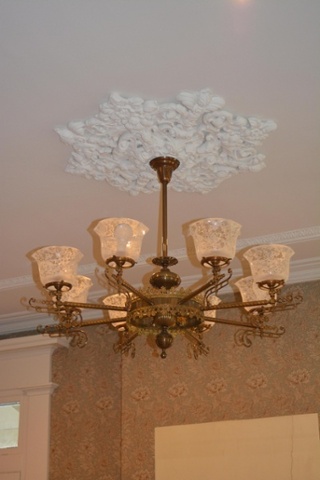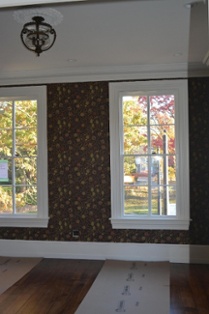 The exquisite detail of this remodel can be seen everywhere. This decorative lighting fixture, for example, is in the formal parlor and hangs below a custom plaster ceiling medallion. In this picture, you can also see the finished custom plaster cornices and the wall paper installation in progress.
This room, pictured below, is receiving final touches and wallpaper application. A period chandelier hangs from a custom plaster medallion surrounded by plaster ceiling rope in a room adorned with golden hued wallpaper and custom plaster cornices.
R. Craig Lord Construction company specializes in custom remodels for historic homes as well as all ages of homes. If you live in Burlington County or Camden County and have a home renovation in mind, give us a call at (856) 235-­4237 to discuss your ideas.
For more of our remodeling blogs, visit www.rcraiglord.com/blogs. Topics: Moorestown remodeling contractors, historic home, historic home remodel, moorestown remodel, historic renovation, historic wallpaper