Historic homes owe a great deal of charm to their grand staircases and our homeowner has gone to great lengths to restore it fully. The restoration of this three-­story staircase has been a multi-­step process for R. Craig Lord Construction Company. Originally, these stairs were in disrepair and unusable. Through attention to detail, quality craftsmanship, and a passion for preservation, the stairs have reclaimed its rightful place in this home. It took carefully removing, restoring, and replicating spindles, restoring original wood tread and replacing those that couldn't be saved, and creating a custom mahogany banister to fit the unique curves and bends of the staircase.
This photo (below) shows original spindles painted white along side exact custom replicas ready to be primed and painted.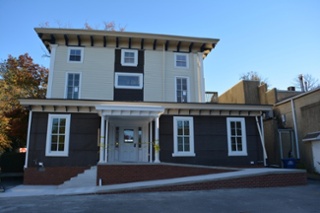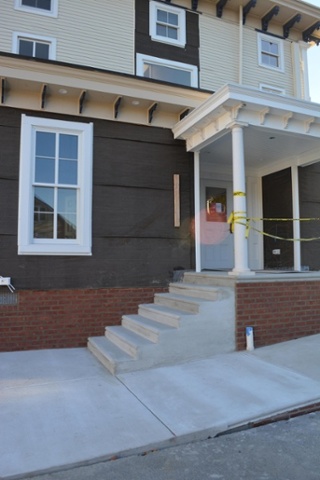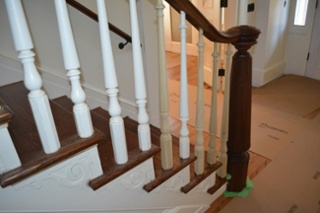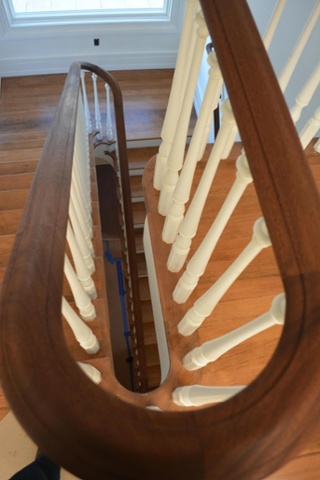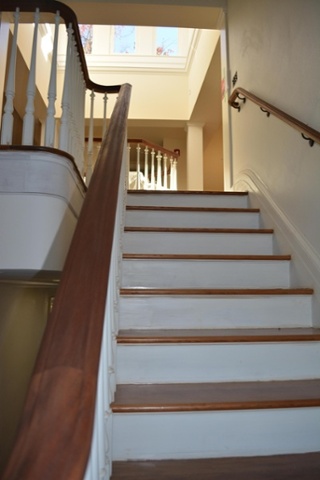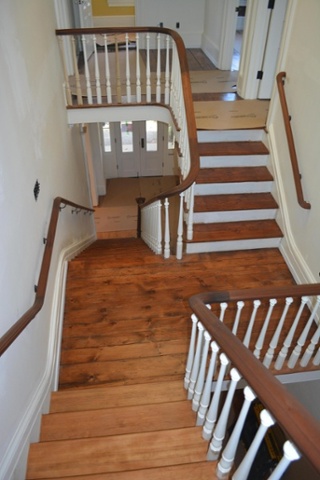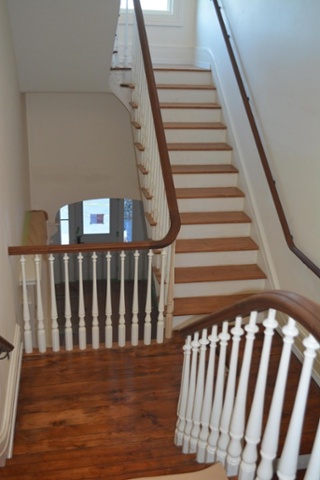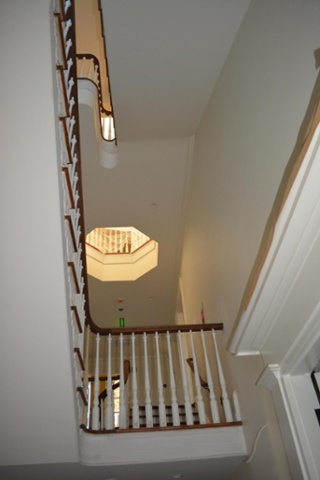 The stained custom banister (looking down from the third) floor shows the form and flow of the railing.
Notice the original wood on the second-­floor landing that was carefully restored.
The below image shows the stairs leading to the third floor. In this picture you can see some of the cupola and the railing surrounding the octagon cutout in the floor that allows light to stream through to the first and second floors.
Guests are treated to a stunning architectural effect as they gaze up from the back foyer to see railings and spindles on the second and third floor with the octagon cut out in view.
After the last details are completed on the staircase, final detailed painting and a protective floor coating will complete the transformation.
As the interior stairs are entering completion, work on the back exterior entry continues. The concrete ramp has been poured and the brick trim has been laid. Next up will be railings to finish off the look and ensure safety. Period trim along the entry porch integrates the new covering with the overall look of this 1850's house.
Check out last blog for more on this historic home remodel by R. Craig Lord Construction Company at R. Craig Lord Construction Blogs or call us to discuss your home remodel in Burlington County or Camden County at (856) 235-­4237.
Topics: Moorestown, staircase renovation, remodel, historic staircase, historic home remodel