A historic home comes with layers and layers of paint and that is just what we encountered during the past couple of weeks at the remodel of the future headquarters of Bayada Home Health Care. Our carpenters at R. Craig Lord Construction Company have been busy stripping away layers of paint to reveal original wood details in this historic home on Main Street in Moorestown, NJ. From doorways to window frames and inset molding, original wood was revealed dating back to the 1850's.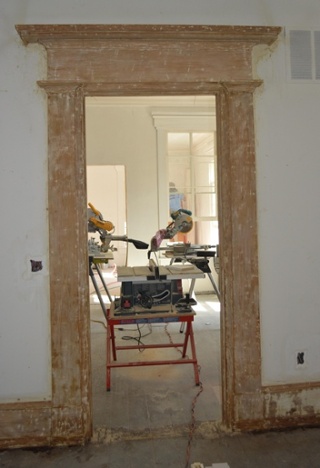 Where the original wood could not be restored, custom new trim to match the original trim exactly was created in order to preserve the period look. This new trim is primed and ready to paint.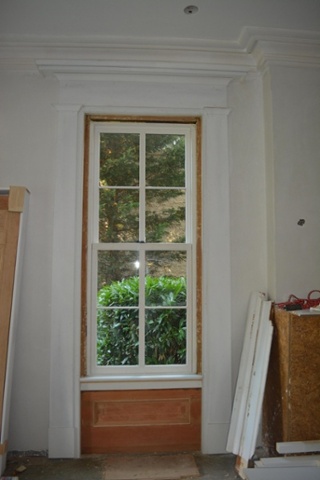 The ceiling on the second floor is complete with finishing touches on the plaster ceiling and custom plaster cornice. These plaster cornices were recreated off site with custom molds from the original ceiling and then fitted on site.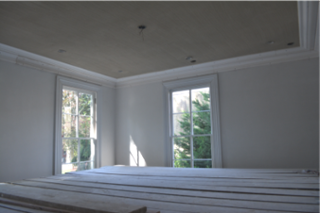 The third floor is in the process of being painted and trim is complete. The ceiling has been prepared for lighting to be installed. Wide blank fir flooring will be installed next.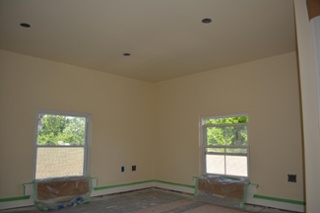 Work in the large conference room is in full swing as this picture (below) shows custom cornice installed on the ceiling of the left side of the room. Trim and pediment head molding is on the floor waiting to be installed. This conference room will showcase custom plaster cornices matching the original 1850's room details.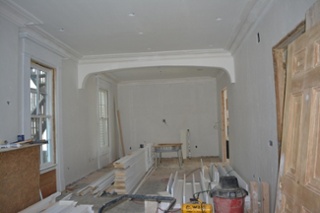 Check back for the next R. Craig Lord Construction update on the historic home remodel of the Bayada Home Health Care Headquarters.
Topics: R. Craig Lord Construction, historic home renovation, bayada home health care, historic home remodel