The choice of flooring is a big decision in any home remodeling project, but simply changing the flooring in a single room can virtually remake the room and set a completely different tone. Of course it affects how a room looks, but it also influences its comfort under foot and noise level. Different types of flooring also have different maintenance requirements and anticipated lifespans. That's a lot to consider.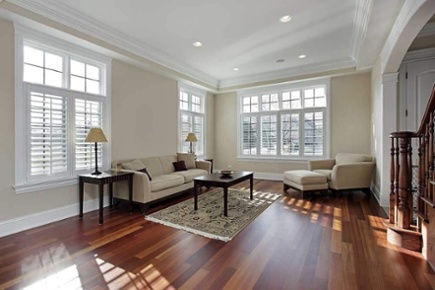 Let's look at four popular types of flooring and see how they compare.
Solid Wood
Real wood flooring makes a room appear natural and welcoming. Wood floors last a long time – 75 to 100 years is not uncommon – but they have to be refinished periodically. How often that happens will depend on the amount of traffic they get. In a heavy-­traffic area like an entryway or kitchen, they'll get scuffed and scratched more quickly than in a bedroom or den. Wood will expand when it absorbs moisture, so it's not a good choice for bathrooms and some basements.
Common flooring choices include hardwoods such as oak, beech, maple, and hickory, and softwoods, especially pine. As you might expect, softwoods aren't quite as durable as hardwoods, but they'll still last as long as you own your home. Exotics such as teak, mahogany and Brazilian cherry are becoming more popular and lend a bit of a "wow" factor to contemporary homes. Narrow boards can be used to create a more modern or formal look, while wide planks and boards with a distressed finish give a room a more traditional "country" look.
Laminate or Engineered Wood
Made from pressed wood chips with a printed top layer and protective surface, most laminate flooring is designed to look like wood, but laminates are also available that mimic the appearance of stone or tile or with bright colors or patterns. Even within the "looks-­like-­wood" category, many hundreds of options are available, with the appearance of narrow or wide boards of almost any wood species and almost any color of stain – even a distressed look is available.
Laminate is scuff-­ and scratch-­resistant and simple to maintain. Most brands will last for decades, though not as long as solid wood floors. On the other hand, they never need to be refinished. With special care during installation, it works well in bathrooms and basements, and it is appropriate for any room in the house.
Stone
No getting around it – stone is hard, and it looks it. It can give a home a modern or traditional look, but it's hard to make a room with a stone floor look cozy, which is why few people install it in bedrooms. When used in a living room, an area rug is often used to provide a softer feel and appearance and to cut down on reflected noise. It looks great in kitchens, but it never gives a dropped plate a second chance the way wood does.
Options are numerous and include slate, marble, limestone, travertine, sandstone and granite. Some stone can be polished to a high gloss, while others are commonly left with quite a lot of texture, the latter being a better option for bathrooms, to help prevent slips and falls. Some stone is more porous than others and is suitable only in areas where it won't be exposed to water.
Stone is installed with grout, and the grout can be colored to blend in, contrast with, or complement the stone. While the stone itself will last forever and requires little maintenance, the grout has to be cleaned occasionally and may need to be restored after a decade or two.
Tile
Ceramic, glass, and porcelain tile are as hard or harder than stone and offer greater variety in appearance and texture. While stone looks undeniably natural, tile spans the gamut from traditional to ultra-­modern. Tile sizes range from a square inch to four square feet, and many different shapes and innumerable colors are available, so that highly complex and original designs can be realized to make a floor a real showpiece in an entry hall or living room. Because of its hard, cold appearance and high noise reflectivity, it's rarely used in bedrooms or living rooms.
Most tile is nonporous, which is why it's such a popular choice in bathrooms. Like stone, it is installed with grout, which can be of matching or contrasting colors and which needs to be cleaned periodically and may require occasional long-­term maintenance. Chipped or cracked tiles can be difficult to repair or replace, but otherwise, tile is simple to clean and maintain.
For flooring installation and complete home remodeling near Moorestown, NJ, contact R. Craig Lord Construction.