Picking the right countertop for your kitchen or bathroom might sound simple at first, but there are several important factors to consider when making your selection. While everyone wants a countertop that looks great and matches the rest of the room, appearance alone is not an ideal way to determine if a countertop will be right for you in the long run.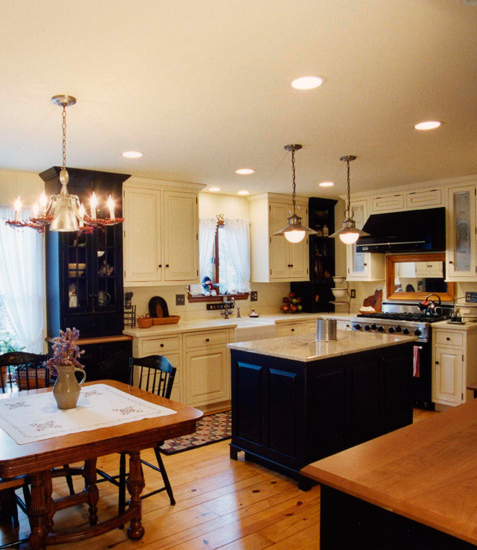 The first thing you should take into consideration is the countertop material. There are several types: natural stone countertops (granite, marble, sandstone);; engineered stone countertops made of quartz and resin;; wooden countertops like maple butcher blocks or bamboo;; stainless steel countertops;; ceramic tile;; and concrete. Some are more resistant to stains or abrasions, more tolerant to heat and impacts, and durable enough for you to slice and chop food on directly.
Granite is by far the most popular type of stone countertop. It is durable and can weather any kitchen conditions you can throw at it. Granite can come in a variety of shades to match your décor, and no two slabs are the same. There are many different types of granite at different price points, based largely on where the granite was quarried. Local granite is obviously going to be more affordable than granite from halfway across the globe.
Advantages: Strong, can withstand heavy abuse, unique visual appearance.
Disadvantages: Corners and edges can be chipped and require professional repair. Stain protection requires occasional sealing.
Engineered stone countertops are another great choice that can stand up to serious abuse. Made of quartz crystals bound in resin, these stone countertops have the added benefit of coming in a larger range of colors, mostly from the natural color in the quartz. However, some manufacturers add pigments to achieve a uniform color as well. Engineered stone countertops are just as hard as granite, but there is no significant difference in price.
Advantages: Doesn't require sealing for stain protection. Incredibly high tolerance for spills, heat, impacts, cuts, slices. Waterproof enough to work with an under-­mounted sink.
Disadvantages: Pattern may look artificial, though this varies by manufacturer. Corners and edges susceptible to chipping, requires professional repair.
Marble, sandstone or soapstone are all beautiful choices for countertops in low-­use areas, like a bathroom or non-­cooking surface in the kitchen. These types of stone are softer and more easily scratched or chipped, and have less than stellar stain resistance. With regular care and maintenance, these options can work just fine, but avoid using them for your primary kitchen work surface.
Advantages: Minor damage can be polished out. Disadvantages: Softer material can be damaged more easily. Needs occasional stain prevention treatment.
Wooden countertops, or butcher blocks, can look beautiful in nearly any kitchen and function well under any circumstances, but they may require more maintenance than other countertops. Most commonly made of maple, cherry or teak, these counters are easy to install and fix. They work best when they've been treated with the proper oils or beeswax to improve heat resistance and varnished to prevent stains from forming. Wooden countertops are susceptible to warping from humidity, and would go poorly with a dishwasher or sink.
Advantages: Great surface for food preparation. Easy to install and repair. Disadvantages: More susceptible to damage from scratches, cuts, heat and impacts. Requires regular treatment with mineral oil or beeswax. Susceptible to warping from humidity, poor choice for placement over dishwasher or around sink.
Bamboo is an eco-­friendly choice for a countertop. It's a renewable material that can be more durable than concrete and has a stronger tensile-­strength than steel, and is a popular choice for construction. However, as a countertop, it's not always the most popular choice for a kitchen work surface. Bamboo, like wooden countertops, can be warped by humidity if installed close to the sink or dishwasher. It is more easily stained than non-­wooden surfaces and does not stand up to abuse as well. Bamboo is a fine decorative choice, but not recommended as a work surface.
Advantages: Cost-­effective, easy to install, environmentally-­friendly, durable material. Disadvantages: Stains easily, more susceptible to damage from impacts, cuts, scrapes and heat. Requires regular sealing treatment to prolong life.
Ceramic tile is an underappreciated choice for countertop material. There is a broad selection of patterns, colors and styles that can be mixed-­and-­matched with other materials in your kitchen. Tile is an inexpensive option that installs much more easily compared to other materials. Tile is incredibly heat and stain-­resistant, and individual tiles can be replaced if they are damaged. However, your surface will be uneven and is not ideal for kitchen work. The grout between tiles can collect food particles and be tough to clean, and stains more easily than the tiles themselves. The tiles themselves are more prone to damage from impacts and can chip and crack.
Advantages: Inexpensive, easy to install, wide range of colors and patterns. Individual tiles can be replaced. High heat tolerance.
Disadvantages: Easily damaged, uneven work surface, grout collects food and stains easily.
Once you select a material for your countertop, the work doesn't end there. Regular maintenance will be necessary to prolong the life and appearance of your counter. This will vary depending on the material you chose, but generally means using some kind of sealer anywhere from every few months to once a year.
Depending on the scope of your project, consider using different materials for different counters in your kitchen or bathroom. Use stronger, more expensive materials like granite for a kitchen island and less expensive materials for areas that will see less use and abuse.
R. Craig Lord Construction Company, an award-­winning design-­build firm in Moorestown, N.J., specializes in home remodels and additions. Contact us or call (856) 235-­4237 to discuss your project.